Epileptology Unit
Head
Dr. med. Friedhelm C. Schmitt
Staff
Andrea Goedecke (Nurse)
Heike Knape (Nurse)
Silke Schmidt (Case Manager)
Doctoral Students and Postgraduates
cand. med. Ann Kitay
cand. med. Antonia Riegger
cand. med. Dominik Thuberg
Collaborations
Prof. Dr. med. M. Holtkamp, Epilepsy Center, Berlin-Brandenburg Neurology Clinic, Charité Hospital Berlin
Prof. Dr. med. C. Bien, Bielefeld-Bethel Epilepsy Center
Prof. Dr. med. C. E. Elger, Bonn University Clinic for Epilepsy
Prof. H. Reichman, Clinic and Policlinic for Neurology, Dresden University Hospital
Prof. em. Dr. med. Dr. h. c. H. Stefan, Epilepsy Center, University of Erlangen
Dr. med. T. Mayer, Kleinwachau Saxon Epilepsy Center, Radeberg
Dr. med. S. Stodieck, Hamburg Epilepsy Center


Our offers in the epileptology unit
The Epileptology Unit, a part of the Department of Neurology, deals with the diagnosis and treatment of seizure disorders. In the epilepsy outpatient clinic patients with paroxysmal disorders are examined, required diagnostic procedures initiated, and appropriate treatment recommendations provided. If necessary, patients are brought to the inpatient area of the Epileptology Unit for video EEG monitoring.
» more... Since 2007, there have been on average 500 patient contacts annually, by over 200 individual patients during Epilepsy Center' office hours, and these numbers are trending upward. Patients may be referred by all neurologists to the outpatient clinic. Both patients with first onset seizure-like disorders (with the occurrence of a seizure considered a defining symptom) as well as hard to care for epilepsy patients are treated. Controlled longitudinal studies with large patient groups have shown that less than 40 percent of epilepsy patients can achieve seizure freedom solely by means of pharmacotherapy (Kwan et al., 2000). Given that the incidence of epilepsy is 0.7% (Hirtz et al., 2007), in Magdeburg this would result in an estimated incidence of about 600 drug-resistant patients. Drug resistance is thus a dominant concern in the Epilepsy Outpatient Clinic.
The individual consequences of the disease for each patient play a central role during considerations about the treatment of that patient. Socio-medical issues, such as authorizations to drive a motor vehicle, thus generally constitute a special focus during patient counselling. Special individual counselling is also available for women who suffer from epilepsy and become pregnant. In addition, special counselling regarding social questions is now being offered - for example, the advantages and disadvantages of obtaining a disabled person's pass, vocational funding opportunities, and the initiation of epilepsy-specific rehabilitation.
Particular emphasis is placed on cooperation with colleagues in private practice. This cooperation includes, for example, the timely transmission of findings and - if desired - immediate telephone contact. Patients and/or their families can reach the epilepsy outpatient clinic during its open hours (7:30 a.m. - 4:00 p.m. weekdays) to inquire about results, report unexpected changes, or request medication adjustments. The electrophysiological laboratory of the clinic has four stationary EEG-polygraphy monitoring systems and a mobile EEG system. An important improvement to the clinic's diagnostic resources was made in 2009 by the addition of a stationary video-EEG unit (for 2-3 beds), making diagnostic and pre-surgical video-EEG monitoring possible. Both standard clinical EEG surface signal monitoring and invasive monitoring can be implemented. In addition to gathering information about the frequency of seizures and their origin (focal versus idiopathic epilepsy, non-epileptic psychogenic seizures), there is an important focus on cases of refractory epilepsy, which, if necessary, can be treated with minimally invasive procedures (vagus nerve stimulation, deep brain stimulation, thermal ablation and seed implantation). Epilepsy-specific 3-Tesla MRI diagnostics (including post-processing), functional MRI, interictal SPECT and PET, and epilepsy specific neuropsychological testing are all carried out in accord with established standards.
Special advice is provided to those patients who are potential candidates for a resection or minimally invasive surgical procedures. Great care is given to the accurate selection of suitable patients, based on the results obtained during presurgical video-EEG monitoring and patient-oriented individual counseling sessions. After a complete review of all findings obtained with a patient, and an evaluation of personalized success rate predictions, a patient may be offered either a resection procedure (in cooperation with the above noted epilepsy centers), a minimally invasive procedure (in cooperation with the local Department of Stereotactic Neurosurgery), or no procedure. All the minimally invasive procedures that have been approved for use in Germany (transcutaneous or minimally invasive vagus nerve stimulation, deep brain stimulation, thermal ablation, seed implantation) are available. In addition, there is a separate Neuromodulation Outpatient Clinic.
Clincal Research
1. Deep Brain Stimulation
Deep Brain Stimulation (DBS) has been established for decades as an effective therapeutic procedure with few side effects for movement disorder diseases (Parkinson's disease, dystonia, tic disturbances, etc.). Numerous investigations have established the required surgical procedures are safe, and entail only minor patient risks (Voges et al 2006).
» more... It has now been found that DBS can also be a safe minimally invasive procedure for treating patients with focal, drug-resistant epilepsy (Fisher et al 2010; Schmitt & Voges et al 2014a; Schmitt & Voges et al 2014b). However, it remains unclear exactly which patients are likely to benefit from the procedure. The anterior thalamus is currently the best studied area with regard to its clinical effect (Fisher et al 2010). Our results suggest that a different structure, the nucleus accumbens (NAC), might be an even safer and more effective target point for the neuromodulatory treatment of focal epilepsies (Schmitt & Voges et al. 2014a; Schmitt & Voges et al. 2014b). A further specification of the benefi ts of DBS in the treatment of epilepsy is a pending research priority of AG Epileptology. In addition to the Center's close cooperation with the Epilepsy Center of Berlin-Brandenburg, there is also collaboration with the Leibniz Institute for Neurobiology in Magdeburg and the AG Clinical Physiology Network at the University Department of Neurology.
2. Thermoablation
Stereotactic thermoablation has a legitimate place in the treatment of carefully selected epilepsy patients. This is particularly true for patients for whom standard resective procedures are not suitable. The thermoablative method offers the advantage of much lower preoperative stress and the possibility
of a stepped approach with repeated partial removals of the seizure-inducing tissue, allowing neurophysiological adjustments to occur during the intraoperative periods.
» more... When they are compared to resective procedures, one advantage of minimally invasive procedures is that they significantly lower the volume of destroyed brain. Circumscribed neural network disorders that can be easily characterized by the use of morphological imaging [such as heterotopia (Schmitt & Voges et al., 2011) and focal cortical dysplasia (Wellmer et al., 2014)] are especially well suited to stereotatic thermoablation (Schmitt et al 2014c). The clinical standardization of these procedures and the comparison of them with already established procedures is one of AG Epileptology's research work areas.
Additional Research Projects
The non-seizure-related consequences of deep brain stimulation[in cooperation with the Neuropsychology and Memory and Consciousness work groups of the University's Department of Neurology, the Berlin-Brandenburg Epilepsy Center and the Hamburg Epilepsy Center (Staudigl et al 2012; Voges B & Schmitt et al 2014a; and the Hamburg Epilepsy Study Group, 2013; Zaehle et al 2013)].
The functional connectivity of subcortical structures [in cooperation with Clinical Neurophysiology and Magnetic Resonance Imaging work groups of the Otto-von-Guericke Department of Neurology and the Section for Clinical and Experimental Sensory Physiology of the Department of Ophthalmology (Kluge et al 2014; Schmitt & Kaufmann et al 2014)].
Source localization and other neurophysiological processes as diagnostic methods in Epileptology [in cooperation with the Epilepsy Center Erlangen (Rampp et al 2010; Mu et al 2014)].
The visual image analysis of epileptic seizures [in cooperation with the Fraunhofer Institute for Factory Operation and Automation in Magdeburg (Mecke et al in progress)]
The Intravenous application of anti-epileptic drugs [in cooperation with the Epilepsy Center Erlangen (Li et al., 2013)]
The long term outcomes of epilepsy medications and surgical interventions [in cooperation with the Berlin-Brandenburg Epilepsy Center and the Erlangen Epilepsy Center (Mecke et al 2009; Mu et al 2014)]
The cultural importance of epilepsy: for example, seizures in feature films and films made for television (Schmitt and Better 2001; Schmitt 2009).
» more... Both animal experimental studies (e.g. Mirsky et al., 1997) and human pilot studies (e.g. Lee et al., 2006) point to an anticonvulsant effect of chronic stimulation of the two Ncl. anteriores thalami. Preliminary results from a multicenter study in the USA have also shown positive effects in this regard. Numerous studies have substantiated that the surgery required to implement this stimulation is safe, and entails only minimal risks to the patient (e.g. Voges et al., 2006). A research project led by the local Department of Stereotact ic Neurosurgery (Director: Prof. Voges) has therefore been submitted to the Ethics Commission. Its primary goal is to evaluate the anticonvulsant effect of stimulation in one or more subcortical targets. A secondary goal is to determine the effects of deep brain stimulation on cognitive functions, psychopathological findings, and the quality of life of epilepsy patients.
Figure 1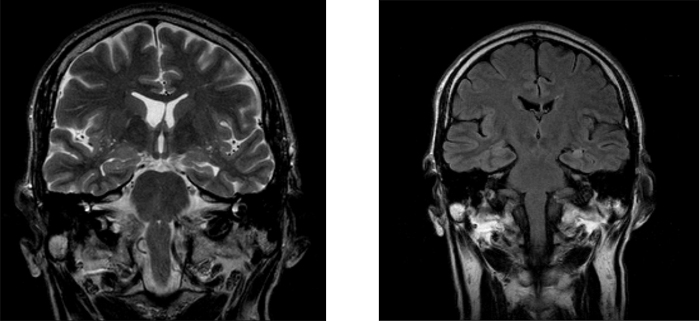 Example for patient with bilateral seizure onset and therefore potential candidate for DBS
53 years old
temporal lobe epilepsy since the age of 4
known seizures: epigastric auras, complex-focal seizures and grand mal
confirmed pharmakoresistance to multiple AEDs
in MRI: atrophy of left hippocampal region (see above)
Figure 2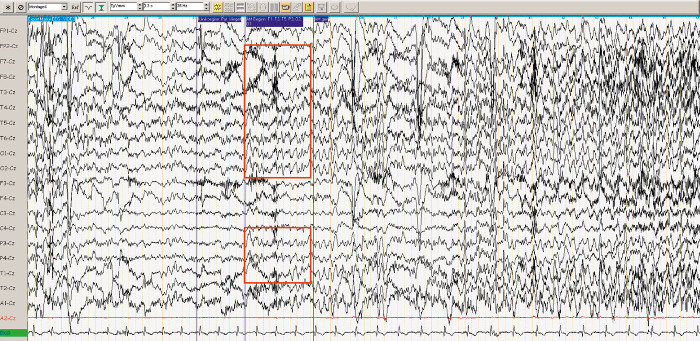 EEG:
left (fronto-)temporal seizure pattern
clinically:
epigastric aura -> complex-focal seizure
Figure 3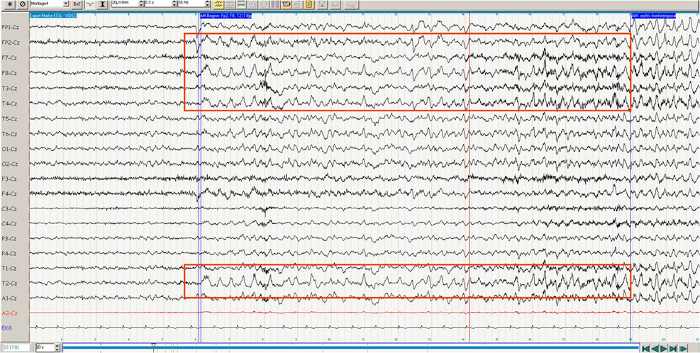 EEG:
right (fronto-) temporal seizure pattern
clinically:
epigastric aura -> complex-focal seizure

workgroup Epileptology: (f.l.t.r.) cand. med. Harim Lee, Dipl.-Ing. Fabian Marquardt, cand. med. Ann Kitay, Dr. med. Friedhelm C. Schmitt
References
Stenner M-P, Litvak V, Rutledge RB, Zaehle T, Schmitt FC, Voges J, et al. Cortical drive of low-frequency oscillations in the human nucleus accumbens during action selection. J Neurophysiol. 2015 Apr.
Kowski AB, Voges J, Heinze H-J, Oltmanns F, Holtkamp M, Schmitt FC. Nucleus accumbens stimulation in partial epilepsy-A randomized controlled case series. Epilepsia. 2015 May 4;
Knieß T, Schmitt FC. Präklinisches Management und Therapie des epileptischen Anfalls und des Status epilepticus. Nervenheilkunde 2015;33(5):335–45.
Voges BM, Schmitt FC, Hamel W, House PM, Kluge C, Moll CKE, et al. Deep Brain Stimulation of Anterior Nucleus Thalami disrupts sleep in epilepsy patients. Epilepsia. 2015;in press.
Sweeney-Reed CM, Zaehle T, Voges J, Schmitt FC, Buentjen L, Kopitzki K, et al. Corticothalamic phase synchrony and cross-frequency coupling predict human memory formation. eLife Sciences. 2014b Dec 23.
Steinbrenner ML, Kowski AB, Schmitt FC, Holtkamp M. Hypothermia did not prevent epilepsy following experimental status epilepticus. Brain Research. 2014; 1446:119-26.
Schmitt FC, Buentjen L, Stefan H. Epilepsiechirurgie - Konzepte invasiver und minimal-invasiver Verfahren. Psychopharmakotherapie (PPT). 2014b;21(5):202–10.
Rampp S, Schmitt H, Heers M, Schönherr M, Schmitt FC, Hopfengärtner R, et al. Etomidate activates epileptic high frequency oscillations. Clinical Neurophysiology. 2014;125(2):223–30.
Pressler RM, Schmitt FC, Beniczky S, Aurlien H, Wolf P, Stefan H. Standardisierter computer-basiert-organisierter Report des EEG: Vorteile des "SCOREn" am Beispiel des pädiatrischen EEG. Zeitschrift für Epileptologie. 2014 Mar 5.
Wellmer J, Kopitzki K, Voges J (2014) Lesion focused stereotactic thermo-coagulation of focal cortical dysplasia IIB: a new approach to epilepsy surgery? Seizure J Br Epilepsy Assoc 23:475–478.
Schmitt FC, Kaufmann J, Hoffmann M, et al (2014c) Case Report: Practicability of functionally based tractography of the optic radiation during presurgical epilepsy work up. Neurosci Lett 568:56–61.
Schmitt FC, Woermann FG, Kopitzki K, et al (2014c) Thermoablation für fokale Epilepsien. Nervenheilkunde 5:370–375.
Schmitt FC, Voges J, Buentjen L, et al (2014b) Tiefe Hirnstimulation des Nucleus accumbens bei fokalen Epilepsien. Z Für Epileptol 48–54.
Schmitt FC, Voges J, Heinze et al (2014a) Safety and feasibility of nucleus accumbens stimulation in fi ve patients with epilepsy J Neurol. 2014 Aug;261(8):1477-84.
Mu J, Rampp S, Carrette E, et al (2014) Clinical relevance of source location in frontal lobe epilepsy and prediction of toperative long-term outcome. Seizure J Br Epilepsy Assoc 23:553–559.
Kluge C, Marquardt F, Voges J, et al (2014) Ictal local fi eld potential recordings in anterior thalamus (ANT) and nucleus accumbens (NAC) in patients with temporal lobe epilepsy (TLE). Klin Neurophysiol 45:38.
Zaehle T, Bauch EM, Hinrichs H, et al (2013) Nucleus Accumbens Activity Dissociates Different Forms of Salience: Evidence from Human Intracranial Recordings. J Neurosci 33:8764–8771.
Voges B., Epilepsy Study Group Hamburg (2013) Effect of deep brain stimulation in Epilepsy on sleep qualitiy and sleep structure of the anterior nucleus thalamicus. Epilepsia Suppl. 3:286.
Li W, Stefan H, Matzen J, et al (2013) Rapid loading of intravenous lacosamide: efficacy and practicability during presurgical video-EEG monitoring. Epilepsia 54:75–80.
Staudigl T, Zaehle T, Voges J, et al (2012) Memory signals from the thalamus: early thalamocortical phase synchronization entrains gamma oscillations during long-term memory retrieval. Neuropsychologia 50:3519–3527.
Schmitt FC, Voges J, Buentjen L, et al (2011) Radiofrequency lesioning for epileptogenic periventricular nodular heterotopia: a rational approach. Epilepsia 52:e101–105.
Kwan P, Schachter SC, Brodie MJ (2011) Drug-resistant epilepsy. N Engl J Med 365:919–926. doi: 10.1056/NEJMra1004418
Rampp S, Kaltenhäuser M, Weigel D, et al (2010) MEG correlates of epileptic high gamma oscillations in invasive EEG. Epilepsia 51:1638–1642.
Fisher R, Salanova V, Witt T, et al (2010) Electrical stimulation of the anterior nucleus of thalamus for treatment of refractory epilepsy. Epilepsia 51:899–908.
Contact
Otto-von-Guericke University
University Department of Neurology
And University Department of Stereotactic Neurosurgery
University Medical Center Magdeburg A.ö.R
Leipziger Str. 44
39120 Magdeburg,
Germany
Phone: +49 (0391)-67-15031
Fax: +49 (0391)-67-15032