Stroke Unit
Head
Prof. Dr. med. Michael Görtler
Staff
Dr. med. Maria Barleben
Dr. med. Andrea Breja
PD Dr. med. Stefanie Schreiber
Annette Glänzel (Documentation Assistant)
Jane Heisinger (Medical Technical Assistant)
Andea Radsey (Secretary)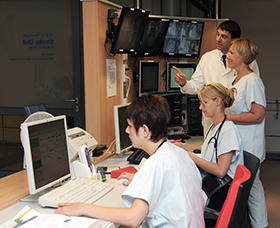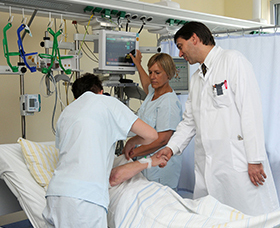 Our range of treatments
Within the Stroke Center of the Magdeburg Department of Neurology, the Stroke Unit (Stroke Ward) and the Special Neurovascular Outpatient Clinic are the chief admittance wards and contact points for cerebrovascular patients. A multidisciplinary team of neurologists, as well as physicians from a variety of other fields, is available at the Center for the specific diagnosis and treatment of cerebrovascular diseases. Moreover, the Stroke Center is the headquarters of a telemedicine network that makes its expertise available on-line to affiliated satellite clinics, so that off-site patients can also benefit from the center's expertise.
The Stroke Unit has 9 beds with special equipment for the intensive monitoring of stroke patients. These beds are used to treat and supervise patients with acute or immediately threatening stroke. The unit seeks to customize treatments so that they address each patient's individual pathophysiology, and this goal guides the Unit's scientific research. To achieve this goal, there needs to be a rapid comprehensive diagnosis when a patient is first admitted, i.e., within the first 30 to 60 minutes after a patient's arrival. Without a facility such as the Stroke Center, rapid diagnoses of this kind would not be feasible.
In the Neurovascular Special Outpatient Clinic, patients are examined after cerebral ischemias, or when there are grounds for suspecting that a cerebrovascular illness is present. Patients are advised on possible and/or necessary treatments and preventive measures. The search for diagnostic methods that permit such recommendations to be made is one of the Center's key scientific aims. For this reason, functional sonographic methods, such as the detection of microemboli and the determination of cerebrovascular reserve capacity, have been integrated into the Center's routine diagnostic procedures. At the present time, this integration is unprecedented and unique. Recently, special MRI scans have also been initiated. The Neurovascular Special Outpatient Clinic and attached neurosonology diagnostics unit, as integral members of the Vascular Center at the University Hospital, carry out the primary diagnoses for cerebrovascular inpatients and outpatients at the University Hospital.
Research
The Stroke Center of the University of Magdeburg conducts research on stroke and neurovascular diseases in a variety of areas. These include the experimental and clinical investigations of cerebral microangiopathy (a major cause of vascular dementia), the use of new diagnostic and therapeutic methods in cases of peracute stroke, the use of newly combined morphological and functional imaging procedures for the prophylactic treatment of stroke, and the development of brain-potential-controlled prostheses for patients with severe functional deficits after a stroke.
Brain-Computer-Interface (BCI) / Brain-Machine-Interface (BMI)
Following a stroke, movement signals that continue to be present in the brain often can no longer be transmitted to target organs such as the musculature. In this project - conducted in conjunction with the University of California at Berkeley, the Fraunhofer Institute Magdeburg, and the Neurological Rehabilitation Center Magdeburg - brain potentials recorded by means of electroencephalography are to be decoded and passed on to control a prosthesis, for example, a prosthetic hand or arm. The aim is to restore motor functions lost due to a stroke.
Investigations of Cerebral infarction-related deficits of higher brain functions with functional magnetic resonance imaging (fMRI)
Following a stroke, brain functions such as visual perception and object recognition and memory are frequently disrupted in restricted areas. Knowledge of the relationship between the localization of a brain lesion and the extent and the type of disturbance is essential for developing neuroprotheses like those noted above and may help to improve exercise programs in classical rehabilitation. Working together with scientific research groups in the ZENIT, we seek to clarify such relationships by examining stroke patients with defined cerebral infarctions by employing a combination of fMRI and standardized neurological-neuropsychological assessment measures.

[Figure 1: Cortical activation revealed by functional magnetic resonance imaging during the presentation of a rapidly moving visual stimulus in a patient's hemianoptic visual field (green shows activation of V5/MT, with a lack of activation of V1) and intact visual field field (red shows activation of V1 and V5/MT).]
Cerebral microangiopathy and vascular dementia
Diseases of the small cerebral vessels are the cause of up to one third of all strokes. They are also a cause of vascular dementia, and it is now suspected that they play a role in Alzheimer's disease. However, in spite of the increasing awareness of their significance, at the present time cerebral microangiopathies can only be marginally treated, and their clinical consequences cannot be effectively prevented. One reason for this absence of therapeatic capabilities is that the pathology underlying microangiopathy is not yet sufficiently understood. Together with the Leibniz Institute for Neurobiology, we are studying molecular and cellular mechanisms of cerebral microangiopathy in several animal models, and developing and testing possible treatment approaches. If a positive outcome is obtained in our pilot tests, the effectiveness of these approaches will be further assessed in clinical trials with affected patients.
To date, there is no diagnostic method that allows a determination of the etiology of the pathology of intracranial arteries. Since the value of therapeutic measures, and, in particular, interventional recanalization procedures, can to a large extent depend on the etiology of vascular disease, we are examining, in collaboration with the MR Research Group of the Department of Neurology at the ZENIT, the extent to which the extremely high resolution of 7-Tesla MRI can enable different vascular etiologies to be differentiated.
Near-infrared spectroscopy (NIRS)
By using light with well-defined wavelengths in the near-infrared range, superficially located areas of the brain can be discriminated through the closed cranium by regional oxygenation. This non-invasive technology extends the range of functional diagnostic methods in neurology, and when combined with other already established methods (e.g., ultrasound), is suitable for characterizing disturbances of cerebral blood flow under clinical conditions. The objective of a recently launched research project is to use this multi-channel technology to create "maps" of the cortical cerebral blood flow for typical vascular pathologies, so that reductions in blood flow in patients can detected, and, if necessary, appropriate treatments administered.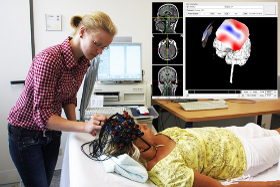 [Figure 2: Application of multichannel near-infrared spectroscopy (NIRS) for non-invasive investigation of regional cerebral blood flow in patients with diseases of the arteries supplying the brain.]
Telemedical-Acute-Stroke-Care-(TASC-)Projekt
Collaboration
Prof. Dr. Robert Knight, Helen Wills Neuroscience Institute, University of California Berkeley
Prof. Dr. Matthias Raith, Faculty of Economics and Management, Otto von Guericke University, Magdeburg
Prof. Dr. Klaus G. Reymann, Leibniz Institute of Neurobiology, Magdeburg
Prof. Dr. Georg Rose, Faculty of Electrical Engineering and Information Technology, Otto von Guericke University, Magdeburg
Prof. Dr. Michael Sailer, Neurological Rehabilitation Center, Magdeburg
Prof. Dr. Klaus-Ulrich Schmucker, Fraunhofer Institute for S oftware and Systems Engineering, Magdeburg
Telemedical Acute Stroke Care (TASC) project. This research project at Otto von Guericke University, funded by the Federal Ministry of Education and Research, has developed a telemedicine network in collaboration with the Faculty of Electrical Engineering and Information Technology and the Faculty of Economics and Management. This network connects satellite hospitals in Saxony-Anhalt with the Stroke Center of the University Hospital. The objectives of the project are to assist the treatment stroke patients at the satellite hospitals, test the medical technology and software specifically developed for the network, and evaluate the network's economics.