Brief Curriculum Vitae
Director of the University Department of Neurology
Professor Dr. med. Hans-Jochen Heinze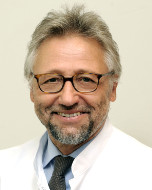 Prof. Dr. Heinze holds degrees in both human medicine and mathematics. In 1985 after completing his medical training in neurology and qualifying for a teaching career in higher education, Dr. Heinze was awarded a two-year DFG fellowship with the Department of Cognitive Neuroscience at the University of California, San Diego. While there, he studied electrophysiological recording methods. Subsequently he worked as a senior physician at Hannover Medical School.
In 1993, he became Director of the Department of Neurology II at the Medical Faculty at Otto-von-Guericke University Magdeburg. In 1997 he became the Director of the Imaging Center in Magdeburg, and since 2002 has been Coordinator of the Magdeburg-Bremen Center for Advanced Imaging (CAI). In addition, since 2005, he has been Director of the Department of Behavioral Neurology of the Leibniz Institute for Neurobiology. Effective July 1, 2008, H -J Heinze became Director of the University Department of Neurology which was formed by combining the Departments of Neurology and Neurology II at the Medical Faculty.
His areas of research include the functional imaging of cognitive functions, especially with regard to visual attention, the processing of rewards, behavioral neurology, memory, and consciousness. He also works on the integration of newly developed imaging procedures into the practice of Clinical Neurology.Hans-Jochen Heinze hat seine Arbeiten in führenden internationalen Wissenschaftsjournalen darunter Nature, Nature Neuroscience, PNAS, Neuron und Journal of Neuroscience, publiziert.
Hans-Jochen Heinze has published his research in leading international scientific journals including Nature, Nature Neuroscience, PNAS, Neuron and the Journal of Neuroscience.
Prof. H.-J. Heinze represented the DZNE (German Centre for Neurodegenerative Diseases of the Helmholtz Association) which was established Magdeburg in 2009. The DZNE operates in 8 locations: Berlin, Bonn, Dresden, Göttingen, Munich, Tübingen, Rostock /Greifswald and Witten. Since june 2011 Prof. Heinze is deputy spokesman of the DZNE Magdeburg.
From 2005 to 2011 Prof. Heinze was a member of the Senate and Joint Committee of the German Research Foundation (DFG).
In February of 2009 Horst Köhler, President of the Federal Republic of Germany, appointed Hans-Jochen Heinze to the German Science Council. In February of 2012 this appointment was renewed for another 3 year term.
Memberships
(Partial Listing)
2005 - Max-Planck Fellowship "Attention and Awareness"
2005 - Member of the German Academy of Natural Scientists LEOPOLDINA
2003 - Member of the Berlin-Brandenburg Academy of Sciences (BBAW)
2001 - Representative of the Selection Committee, Alexander von Humboldt Foundation