Neuroprosthetics after stroke/ functional electrical stimulation
Head
Dr. med. Lars Büntjen, Senior Physician
Staff
Janet Hausmann, Assistant Physician
Topic
Stroke is the most common cause of moderate to severe physical disability in Germany. Its primary causes are cerebral infarction and intracerebral bleeding. Some stroke patients suffer from 'foot drop' (foot flexor paralysis). If these patients are sufficiently mobile and foot drop is a major disability for them, a neural prosthesis may produce a significant improvement in their life quality. Many patients with this illness are provided with peroneal splints, but suffer from pressure sores and contact allergies or are not satisfied with the therapeutic result.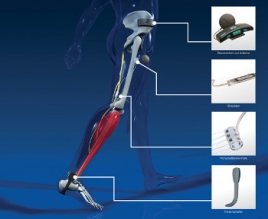 Fig.1: Neural prosthesis for stimulation of the peroneal nerve to treat "foot drop" (foot flexor paralysis)

The stimulated nerve is known as a mixed nerve because it has both sensory and motor components. Selective stimulation of the motor units is desirable for triggering the dorsiflexion. Since four individually controllable channels are placed in the cuff electrode, it is possible, using an external programming device, to determine the optimal pulse for the individual patient. This stimulation configuration can then be made permanent. Over time, the patient will adjust to the prosthesis and learn how to operate the heel switch, so that walking becomes considerably steadier. The classic walking pattern of a stroke patient entails an outward foot rotation and requires an enormous amount of concentration to avoid falls; this pattern is obviated by the use of the heel-switch to initiate dorsiflexion. Over the course of time, operators will integrate the functional prosthetic into their body image.
Click here to read an article from the Magdeburg Volksstimme on the successful implantation of this neuroprosthesis.
Patient without and with switched Neural prosthesis in the polygon gait analysis (different perspectives):
Contact
Department of Stereotactic Neurosurgery
Director Prof. Dr. med. Jürgen Voges
Otto-von-Guericke-University
University Department of Neurology
and University Department of Stereotactic Neurosurgery
University Hospital Magdeburg A.ö.R
Leipziger Str. 44
39120 Magdeburg, Germany
Phone: +49 0391-67-14487
Fax: +49 0391-67-14474
send Email
Dr. med. Lars Büntjen, Senior Physician
Otto-von-Guericke-University
University Department of Neurology
and University Department of Stereotactic Neurosurgery
University Hospital Magdeburg A.ö.R
Leipziger Str. 44
39120 Magdeburg, Germany
Phone: +49 0391-67-14487
Fax: +49 0391-67-14474
send Email
Janet Hausmann, Assistant Physician
Otto-von-Guericke-University
University Department of Neurology
and University Department of Stereotactic Neurosurgery
University Hospital Magdeburg A.ö.R
Leipziger Str. 44
39120 Magdeburg, Deutschland
Phone: +49 0391-67-13484
Fax: +49 0391-67-290331
Website: University Department of Stereotactic Neurosurgery