Christa Lorenz ALS Research Prize 2009
First presentation of the Christa Lorenz ALS Research Prize
Seeking new treatments for muscle paralysis
The Christa Lorenz ALS Research Prize has been awarded for the first time for outstanding original scientific work on amyotrophic lateral sclerosis (ALS) by the Foundation for Medical Science, which is headquartered in Frankfurt am Main. The 15,000 euro research prize was awarded to the scientist and clinician, Assistant Professor Dr. med. Stefan Lorenzl from the Ludwig Maximilian University of Munich. The award was presented during the scientific symposium on age-related dementia organized by the University Department of Neurology and the German Center for Neurodegenerative Diseases (DZNE) in the Helmholtz Association in Magdeburg on 5 September 2009 on the campus of the Faculty of Medicine in Magdeburg. The winner was congratulated by Assistant Professor Dr. Stefan Vielhaber, chief senior physician and deputy director of Magdeburg University Department of Neurology and scientific advisor on the foundation's board. He praised the excellent work of the award-winner in the field of amyotrophic lateral sclerosis. Of particular significance was that these findings point to new potential treatment options for this serious neurological disease.
Amoytrophic lateral sclerosis (amyotrophy = muscular atrophy, lateral = of the side and sclerosis = hardening: meaning the destruction of motor nerves in the spinal cord) is a chronic disease of the nervous system. The progressive damage to nerve cells results in muscle paralysis which leads to movement, speech and swallowing disorders that increasingly restrict the sufferer's ability to carry out everyday tasks. The disease is incurable, as the reasons for its emergence are still unknown. The therapeutic options available today can, however, contribute to alleviating the symptoms.
The Foundation for Medical Science Frankfurt am Main was founded in 1999 by Christa Lorenz, who herself suffered from and died as a result of ALS. The aim of the foundation is to promote research and knowledge of this neurodegenerative disease, which is also considered to be a model disease for other age-related diseases with selective cell death such as dementias. The award winner, Assistant Professor Dr. med. Stefan Lorenzl, born 1967, works as a senior physician in the palliative care unit and Department of Neurology specializing in treating neurodegenerative diseases. "Magdeburg was chosen for the first presentation of this award due to the close thematic correlation of the scientific intention of the prize with the subject matter of our symposium," said Dr. Vielhaber. (PM)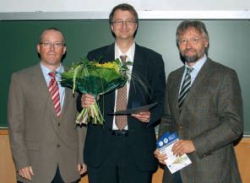 PD Dr. Stefan Vielhaber (li.) überreichte mit Klinikdirektor Professor Dr. Hans-Jochen Heinze die Auszeichnung an PD Dr. Stefan Lorenzl (Mitte).