Doctoral Prize funded by the estate of Klug and Sichler
The Faculty of Medicine at the University of Wurzburg presented Mr Max-Philipp Stenner with the doctoral prize funded by the estate of Klug and Sichler in recognition of his doctoral thesis which was graded summa cum laude in May 2012.
During his three years of laboratory work, Mr Stenner was involved in studying the functions of regulatory T-cells in relapsing multiple sclerosis in the clinical researcher group for multiple sclerosis and neuroimmunology at the University Hospital of Wurzburg under the guidance of Professor Heinz Wiendl. The main focus of interest of the longitudinal, prospective study was the migration of FOXP3+ and HLA-G+ regulatory T cells across the blood-brain barrier and their immunotolerant functions under treatment with natalizumab, a monoclonal antibody against the cellular adhesion molecule VLA-4.
To this end Mr Stenner developed intricate ex vivo models of the blood-brain barrier, which were supplemented by classical immunological molecular biology methods. He was able for the first time to show that in comparison with proinflammatory T cells, FOXP3+ regulatory T cells in healthy donors preferentially migrate across endothelial tissue in the blood-brain barrier. This migration advantage did not, however, exist for regulatory T cells in MS patients, irrespective of whether they were treated with natalizumab. However, natalizumab led to a gradual restoration of the restricted regulatory potential of FOXP3+ in MS. The results were discussed against the background of an extensive modulation of the network of adhesion molecules on the cell surface.
Results of the study were published in five articles in specialist journals, including Archives of Neurology, Neurology and European Journal of Immunology.
Mr Stenner has been employed in the University Department of Neurology in Magdeburg since March 2010. From September 2011 to February 2015 he worked under Professor R. Dolan at the Wellcome Trust Centre for Neuroimaging at University College London as a visiting researcher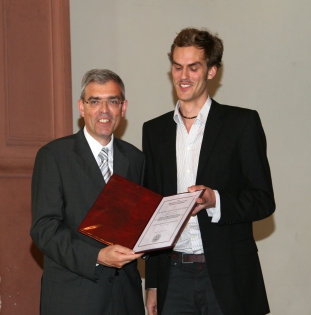 The Dean of the Medical Faculty at Wuertzburg, Prof. Matthias Frosch, presents Max Phillip Stenner with his doctoral diploma.